Blast from the past: Share a Smile Becky was a wheelchair-using Barbie brand doll produced by Mattel back in the '90s.
In a case of toy imitating life, the original doll's wheelchair didn't fit through the door of the Barbie Dream House, and her long blond locks were a problem – they easily got caught in her wheelchair wheels. In addition, her initial "Wheelchair Becky" moniker painted her as sort of one-note. So the people at Mattel did some rejigging and reintroduced her as "Share a Smile Becky," with a smaller wheelchair and shorter hair. The new and improved first issue of the dolls flew off the shelves, selling out in two weeks.
Despite the make over, Becky still couldn't fit in the Dream House's elevator. Kjersti Johnson, a then 17-year-old high school student with cerebral palsy, complained about the lack of access. "This is what we live with every day… How ironic and true…housing for people with disabilities that is not accessible! Mattel said they will redesign the houses in the future to accommodate…now if it were that easy for the rest of us!" Mattel did make moves to incorporate accessibility into new Barbie house designs, but later discontinued the Becky doll line, which also included a wheelchair-racing Paralympic Becky. Given the decent sales, why'd they decide to bury her?

In 2006, Angela Floyd went searching for a disabled doll after her wheelchair-using daughter asked, "Aren't handicapped people pretty enough to be Barbie dolls?" She got a hold of Mattel, who wouldn't say why they'd discontinued Becky, but they did send the girl a doll from the archives. "Mommy, it looks like me. It's me, Mommy!" Angela's daughter, Morgan, said. A spokesperson mentioned that the company "might create another wheelchair-using doll in the future but has no definite plans to do so." A Yahoo! Answers user had this to offer as to why:

There were problems with the design of the whole Barbie community. I think Mattel was trapped with an inaccessible Barbie community for Becky and didn't want to redesign it. Becky (if truly disabled) could not get into the house, the car, or much of the extras. She was mostly the friend who couldn't go where Barbie went.
She also was really just another Barbie with a different hairstyle and didn't have atrophied legs or anything like that – not that I think those were particularly essential.
But I do think it was a good idea. Children with disabiltiies [sic] need toys that reflect the people they are or will be. Becky is needed for exactly the same reason as multiracial dolls are needed.
Playmobile and Playskool both have figures with disabilties [sic] available in their sets. Hasbro had a whole series of soft dolls at one time – an amputee who skied, with hearing aids, with crutches, with a seeing eye dog, and with a wheelchair.
Girls want dolls that look like themself [sic] and their friends – if they or their friends have disabilities than there really is nothing they can choose from. That's what makes them feel different – like outsiders.
This echoes what we said in Accessible Intercourse episode 8: Not having examples of yourself in the media or at the toy store can make kids feel invisible. However, not everyone with a disability welcomed the arrival of Share a Smile Becky. Quotes from a NY Times article from 1997:
"The name makes me want to gag," said Leslie Heller, who has cerebral palsy. Nadina LaSpina, who had polio, said, "It shows they can make money off of us."
"We'll see where it's marketed," said Deborah Yanagisawa, who is blind. "It will be in the hospital gift shops."
A Becky for the '10s might not be scooching from wheelchair into B's new Glam Convertible anytime soon, but considering that the proportions of the dolls make it impossible for any of them to stand on their own, wheelchairs for everyone in Barbie World actually makes sense.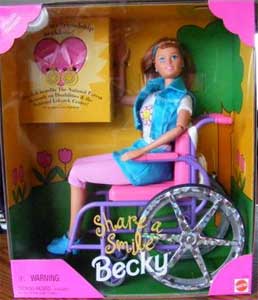 According to one of Mattel's original press releases, Share a Smile Becky is:
Barbie(R) doll's hip and very cool disabled friend who is a photographer for her high school yearbook. She comes with a pretend camera so she can take "pictures" at all school events. Becky doll uses a red and silver realistically designed wheelchair and keeps in style wearing a trendy fashion ensemble accessorized with red stud earrings, red framed sunglasses, and a brown backpack that hangs on the back of her wheelchair.
Becky also appears in a new book entitled, Barbie, The New Counselor, published by Golden Books, where she works as a camp counselor with Barbie. This emphasizes the Becky doll's leadership abilities and sends a powerful message to kids. In addition, Becky will appear in the Detective Barbie CD-ROM where she helps the Barbie doll solve mysteries using her incredible computer skills to uncover clues.
(The top right Becky's owner is disabled artist extraordinaire Neil Marcus, who we hung out with back in March. Thanks Neil.)